Springtime. As some of us are thawing out from the cold winter months, we begin to see some refreshing signs of Spring. The sun is out longer, birds are chirping cheerfully in the morning, and some of our favorite fruits are starting to bloom.  However, recently I was put in an unexpected situation and I got that feeling inside that the Fruits of the Spirit were nowhere to be found!
You know the feeling. You begin to feel a little warm around the collar, your jawbone gets tight as you slowly grind your teeth and bite your tongue.  A few years ago I would have begun to huff and puff, take some deep sighs, or just blow my cool!  I am thankful that this particular time my testimony for Christ was not ruined in this very public place.  I remembered a few words from what is becoming a new favorite passage of mine in Galatians.
But the fruit of the Spirit is love, joy, peace, patience, kindness, goodness, faithfulness, gentleness, self-control; against such things there is no law.  Now those who belong to Christ have crucified the flesh with its passions and desires. If we live by the Spirit; let us walk by the Spirit."  Galatians 5:22-25
At the time, all I could remember of that passage was the love, joy, peace, and patience part.  However, just taking a minute to recite God's word in my mind helped to cool my temperature, loosen up my jawbone, and confess to God my sin.  I've made a commitment to memorize the entire passage because I instantly felt the impact of remembering that portion of scripture!
That moment clarified for me that the Fruit of the Spirit is not always as bountiful in my heart as I'd like.  We need to do everything we can to foster a successful harvest of the Holy Spirit's fruit each day as we represent Christ.   The things we do, say, and how we carry ourselves impact those around us. (seen or unseen)
It is easy to let frustrations, fear, or even the unexpected ruin the divine fruit of the Spirit that needs to be in abundant supply at any moment for harvesting.  Satan will attempt to use these circumstances to distract us from utilizing the source of fruit…the Holy Spirit.  This makes us more susceptible to sin and  damages our testimony.  I know there are some fruits that I am in short supply of at times and I need to seek God's help in those areas especially.  What about you?  Are there areas where you can utilize more of the Holy Spirit's fruit?
As we approach a brand new season, let's prepare our hearts and minds by staying in God's word daily and hiding it in our hearts.(Psalm 119:11)  We need to communicate with Him consistently in prayer asking for strength and wisdom to handle whatever may take place today.
When we practice these things, the Fruit of the Spirit will be bountiful when we need it most!
Now it's time for…
Faith 'n Friends Blog Hop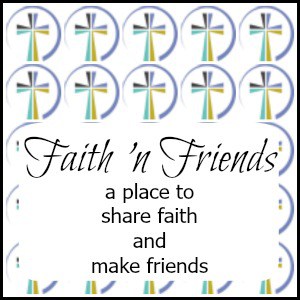 We're so glad you're here!
This is a place to share faith, make friends, and have fun.
Hosts
Faith 'n Friends
Blog / Facebook / Twitter
Deb Wolf
Blog / Facebook / Twitter / Pinterest

by Mary Flaherty
@ SonRise Insights
Thank you, Mary, for joining FnF Blog Hop!
No More Rules Blog Hop
Add 1-2 of your favorite faith/life posts.
Then just make friends and have fun.
We would appreciate it if you would
Grab the Button or link back to the hosts.
Loading InLinkz ...