Close your eyes and do not peek,
And I'll rub spring across your cheek.
Smooth as satin, soft and sleek,
Now close your eyes and do not peek.
I can't begin to count how many times my husband has come home from a spring outing with these words from his childhood . . .  and one hand behind his back concealing a bouquet of humble spring beauty.
Pussy willow season is the reward for persevering through a long, Maine winter, and those tiny gray buds, soft as a kitten's paw, always find a place of honor in a vase somewhere nearby where I can enjoy them until the season of running water, the gift of longer daylight, and the offering of warmth and earth-smells bring about some of the more showy manifestations of spring.
Those who believingly follow Jesus Christ are familiar with anticipation, with the dogged perseverance of waiting, because we have read the words of Scripture about eternal rewards which come to those who endure.
So we endure – sometimes just because God has commanded us to do so;
Sometimes because we remember that Jesus has promised it will be worth it in the end. 
The final book of the Bible, John's Revelation, makes a promise of reward to each of the seven churches John addresses.  To the faithful, God extends the promise of stunning rewards:  eternal life (2:7), resurrection (2:11), God's provision (2:17), ruling with Jesus (2:26-28), citizenship in God's kingdom (3:5), life in the presence of God (3:12), and shared authority with the victorious Christ (3:21).
But there are times when eternal rewards don't capture our hearts as they should.   We grow weary . . . impatient.  Short-sighted, we wonder if maybe a promotion at work, a nicer house with a better, more fashionable address, or the realization of some of our secret hopes and aspirations might not be a more appropriate reward for the kind of "suffering" that we've endured.   Like the prodigal son, we want our "inheritance," and we want it now.
God, however, has the long leisure of eternity in mind, and, while humans long for instant gratification, He tends to do many things very, very slowly.  He sees the character development and deep refinement that will come through perseverance.  He delights in a brand of righteousness that comes in the secret place, for His eyes only, that may go unnoticed, unheralded — and unrewarded as far as we can see with our temporal understanding of rewards.
Today, we persevere, but not alone.  When John introduces himself at the outset of his final letter, he speaks of companionship and uses plural pronouns, (1:9).  When perseverance happens in community, we remind one another of future good that is to come.  We hold each other to a biblical definition of "overcoming," and endure the pressures of this life in company with those who are also learning the grace of saying "no" to evil and "yes" to Christ.
The Apostle Paul cherished a clear-eyed view of his eternal reward that carried him through every trial he faced:
 For I consider that the sufferings of this present time are not worthy to be compared with the glory which shall be revealed in us. . .  But if we hope for what we do not see, we eagerly wait for it with perseverance, (Romans 8:18, 25).
Lord, teach us to look forward in hope to what you have promised; to have our hearts firmly planted in your kingdom, for that is where we will find our true and most lasting treasure.
Now it's time for…
Faith 'n Friends Blog Hop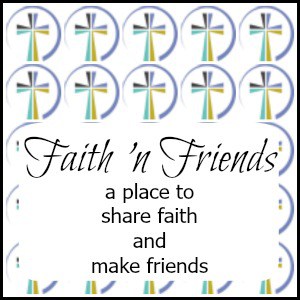 We're so glad you're here!
This is a place to share faith, make friends, and have fun.
Hosts
Faith 'n Friends
Blog / Facebook / Twitter
Deb Wolf
Blog / Facebook / Twitter / Pinterest

by Aimee Imbeau
@ A Work of Grace
5 Ways to Set a Good Example for Your Kids
Thank you, Aimee, for joining FnF Blog Hop!
No More Rules Blog Hop
Add 1-2 of your favorite faith/life posts.
Then just make friends and have fun.
We would appreciate it if you would
Grab the Button or link back to the hosts.
Loading InLinkz ...