Terrorism, politics, illness, heartbreak, loss…
Sometimes this broken world feels too painful. Too hard.
And I remember Solomon's words:
History merely repeats itself. It has all been done before. Nothing under the sun is truly new. Ecclesiastes 1:9
Nothing new.
No, I'm not trying to totally depress you this Good Friday; especially when I promised you hope.
Jesus stepped into a painfully dark time in history. Roman dominance. Temple dissension. Hurting broken people. Nothing new under the sun.
But Jesus did give us new. NEW that He alone could give. New life. Changed life. Purposeful life. Redeemed life. Abundant life. Eternal life.
New! And that gives hope. Real hope. Hope that you and I can trust every promise He made. So, clothe yourself with hope today. Let go of fear, anger, frustration, hopelessness, and embrace the truth of the Good Friday to Easter to Forever through the promises of Jesus.
Read the promises here.
Now it's time for…
Faith 'n Friends Blog Hop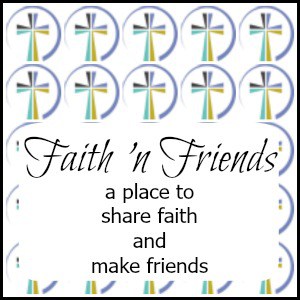 We're so glad you're here!
This is a place to share faith, make friends, and have fun.
Hosts
Faith 'n Friends
Blog / Facebook / Twitter
Deb Wolf
Blog / Facebook / Twitter / Pinterest

from Laura
@ Missional Women
Being a Disciple in the Storm
by Jen Avellaneda
Thank you, Laura and Jen, for joining FnF Blog Hop!
No More Rules Blog Hop
Add 1-2 of your favorite faith/life posts.
Then just make friends and have fun.
We would appreciate it if you would
Grab the Button or link back to the hosts.
Loading InLinkz ...