Attitude. How is your attitude as we begin a new year? We have heard since we were young… "watch your attitude" at least I heard it most of my teenage years. What does attitude mean?  I looked up the definition in the dictionary and I love what it says.  Attitude; a settled way of thinking or feeling about someone, typically one that is reflected in a person's behavior.
So as we start a new year and begin making New Year's resolutions, where is your attitude towards God? I must admit that for years, my attitude towards God was ambivalent. I was thankful to be a Christian but my heart was not interested in seeking God's will when setting my goals.
I was setting goals for my work, my health, and finances but I never once asked God how He wanted to use me for his glory.  What was His will?  Maybe He did want me to have a better job or a reliable car but my attitude was all about me. What I wanted and hoped for in the new year.
I enjoyed over 20 years of success in sales and marketing. I heard this saying about attitude on several occasions…"Your attitude determines your altitude!"  However, in the past few years since the stroke, God has revealed to me that my attitude means so much more.
It's more than a cliche. Attitude is a choice we make. When we focus first on Christ, our attitude should be positively joyful remembering everything He has done for us!  Choosing to have a positive attitude and asking for God's help in every aspect of your life, we can accomplish anything with His strength.
" I can do all things through Christ who gives me strength." Philippians 4:13

Attitude Impacts our Lives
Our Christ first attitude improves our relationship with Him and our behavior is impacted in the most glorious way! Here are just a few ways that our Christ-like attitude is reflected as He blesses us.
Attitude towards our family– hurt feelings are mended, communication is sincere, and family bonds grow stronger than ever.
Attitude towards our friends– we become a better friend to those that need it as we put our friends needs before our own.
Attitude towards food– we eat to live healthy and take care of God's temple.  Realizing the blessing of provision, we overcome the desire to overindulge.
Attitude towards fun– we become more discerning of the things we do, shows and movies we watch, and how we spend our free time.
Attitude towards our finances– we begin to focus more on our needs and less on our wants.  We choose willingly to bless others when God blesses us.
Attitude towards our future– we seek GOD's direction for future plans as we desire to be in the center of His will. Our anxiety lessens as we know our future is in God's hands. (Jer. 29:11)
In Philippians 4:8, the apostle Paul states that we as believers in Christ should focus on or dwell on "whatever is true, whatever is right, whatever is pure, whatever is lovely, and whatever is of good repute…." So when we choose to focus on these things, our attitude will soar to new heights as it is surrounded by the peace that God promises.
So as you prepare your heart and mind for the new year, choose to have a Christ-like attitude within God's strength. Don't choose your attitude based on your feelings or circumstances. Choose to live this year and every year for Christ!
Now it's time for…
Faith 'n Friends Blog Hop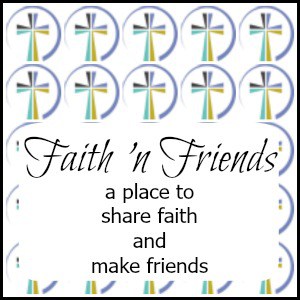 We're so glad you're here!
This is a place to share faith, make friends, and have fun.
Hosts
Faith 'n Friends
Blog / Facebook / Twitter
Deb Wolf
Blog / Facebook / Twitter / Pinterest
Tai East 
Blog / Facebook / Twitter / Pinterest

by Tasha
@ My Graceful Life
Just Another Night in the Kitchen
Thank you, Tasha, for joining FnF Blog Hop!
No More Rules Blog Hop
Add 1-2 of your favorite faith/life posts.
Then just make friends and have fun.
We would appreciate it if you would
Grab the Button or link back to the hosts.
Loading InLinkz ...