You made New Year resolutions. So how's it going?
Are you…
Satisfied?
Frustrated?
Four weeks into 2016 and the clean slate has lost its freshness. The sparkle just doesn't last that long does it?
Many of us gave up on our resolutions long ago and life has gone back to 2015 normal. Not at all unusual.
What did you resolve to change? I did a little research to see if I could find a list of the most common New Year's Resolutions:
Lose weight.
Exercise more.
Quit smoking.
Quit drinking.
Get a new job.
Get out of debt.
Save money.
Get organized.
Spend more time with family.
Manage stress better.
And stop procrastinating.
If you've given up on any of the above, I'm thinking you're feeling pretty discouraged and defeated.
Let's change that!
W can turn our resolutions into goals and start again.
Here's a list of my favorite ways to get back on track: 
Ask if your resolution was realistic and why it was important. – 

Is it health related? Is it causing problems in your marriage? Do you just want to feel better? Remember…

  Happiness is not a goal; it is a by-product. ~Eleanor Roosevelt
Don't beat yourself up, you are forgiven. – It's just the end of January. Don't give up. The past is covered by grace…   Give all your worries and cares to God, for he cares about you. 1 Peter 5:7

Refuse to accept failure. 

– You are only a quitter if you quit. Setbacks are normal. With God's help you can do this. Remeber…

   For I am about to do something new. 

See, I have already begun! Do you not see it? 

I will make a pathway through the wilderness. 

I will create rivers in the dry wasteland. Isaiah 43:19

 

Turn your resolutions into reachable goals. – Break that huge resolution into small reachable goals with short-term deadlines…  Setting goals is the first step in turning the invisible into the visible. ~Tony Robbins
Make a plan of attack. – Make intentional use of your planner by writing your goals where you'll see them often…  "The new year stands before us, like a chapter in a book, waiting to be written. We can help write that story by setting goals." ~Melodie Beattie
Invite a friend to be on your team.

– I ask Rev to keep me accountable ( in a gentle and loving way). Team up with a friend or neighbor who has similar goals. Remember…

 Two people are better off than one, for they can help each other succeed.

Ecclesiastes 4:9

Make a list of things that inspire you. – Replace defeatist thoughts with quotes and verses that encourage you. Don't let that ol' lyin' enemy get in the way. Remember… For God has not given us a spirit of fear and timidity, but of power, love, and self-discipline.

2 Timothy 1:7

Reward yourself for every small success. – A little pat on the back is a great way to stay inspired. You can be your greatest cheerleader… "Celebrate your victories! Be verbal about it. Haters will say you're bragging, but those who love you will celebrate with you." ~Steve Maraboli
Don't ever allow small setbacks to defeat you. – Remove thoughts like, "I messed up today so I may as well give up until Monday." Forgive yourself quickly and DO something that will get you back on track… "Many of life's failures are people who did not realize how close they were to success when they gave up." ~Thomas Edison
Stay positive. – Make "With God's help, I can do this" your favorite saying. He is with you. And that's something to celebrate… "Did I offer peace today? Did I bring a smile to someone's face? Did I say words of healing? Did I let go of my anger and resentment? Did I forgive? Did I love? These are the real questions. I must trust that the little bit of love that I sow now will bear many fruits, here in this world and the life to come." ~Henri Nouwen
That's my list. What would you add?
Now it's time for…
Faith 'n Friends Blog Hop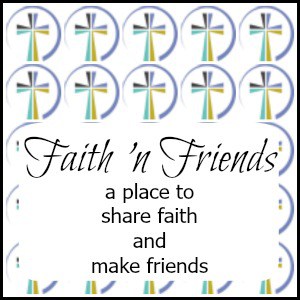 We're so glad you're here!
This is a place to share faith, make friends, and have fun.
Hosts
Faith 'n Friends
Blog / Facebook / Twitter
Deb Wolf
Blog / Facebook / Twitter / Pinterest
Tai East 
Blog / Facebook / Twitter / Pinterest

by Dr. Michelle Bengston
@ Hope Prevails
Thank you, Michelle, for joining FnF Blog Hop!
No More Rules Blog Hop
Add 1-2 of your favorite faith/life posts.
Then just make friends and have fun.
We would appreciate it if you would
Grab the Button or link back to the hosts.
Loading InLinkz ...