Think about this word: PASSION. What are your first thoughts? How would you describe a passionate person?
Here's what a couple famous people had to say about passion:
"There is no time for cut-and-dried monotony. There is time for work. And time for love. That leaves no other time." –Coco Chanel
"A great fire burns within me, but no one stops to warm themselves at it, and passersby see only a wisp of smoke."–Vincent Van Gogh
"If you're passionate about something, it freaks people out. You're considered bizarre or eccentric. To me, it just means you know who you are."–Tim Burton
Of all places, these quotes and a handful of others appeared in large print on a full, prominently featured page in Forbes magazine. Yep: The financial magazine letting it all out there on passion.
One of the featured quotes in this secular, financial, widely-read magazine was a quote that led to this post. I must admit: I did not see it coming. However, here is one of Forbes magazine's short list of "passion" quotes:
"Whatever you do, work at it with all your heart, as working for the Lord, not for human masters."–Colossians 3:23
I confess, this lit me up! Right there with all the human wisdom is what I consider the best quote on "passion" ever–no contest! In fact, anyone who walks into my work place office sees those very words on a large sign over my right shoulder on the back wall.
Don't you love it when you are passionate about something? If you are, it can be very hard, consuming work, but you gladly embrace and it seems a whole lot less like work.
Consider, for example, the Wal-Mart employee I met a couple years ago. I was trying to get several bags of mulch home. Please understand that at the time, this was an impossible task for me. Open heart surgery, then a plates and screws shattered-arm surgery a year later meant I knew I could neither get the mulch into the cart or into my car.
So, I asked for help. Truthfully, I was embarrassed that I needed it. This task would have been nothing for me for most of my life. Well, enough about me.
Wal-Mart paged and a young man showed up rather quickly. He cheerfully placed the bags in the cart. I paid and he waited saying he wanted to get them into my car too. (If you're wondering what my plan was when I got them home, I would count on Deb—not my most macho moment.)
It was fun talking with this enthusiastic, glad-to-help young Wal-Mart employee. Of course, I thanked him. Then, I pulled out a ten dollar bill and handed it toward him just saying that I wanted to tangibly express my gratitude as well.
He smiled, but did not extend his hand. He said, "Oh, no, sir. I could never accept that. Mr. Walton would not have wanted that because it might tempt us to treat customers who could afford to tip … differently from those who couldn't." He said he was glad to help…and hustled across the parking lot to help another customer.
I wanted to give him a few bucks, but the Lord wanted to show me what it looks like to live Colossians 3: 23.
My hunch is that you join me in wanting to do likewise. Whether a person works on Wall Street or at Wal-Mart¬: "Whatever you do, work at it with all your heart, as working for the Lord, not for men…"–Colossians 3:23 (NIV)
Quotes from February 8, 2016 issue of Forbes magazine.
Now it's time for…
Faith 'n Friends Blog Hop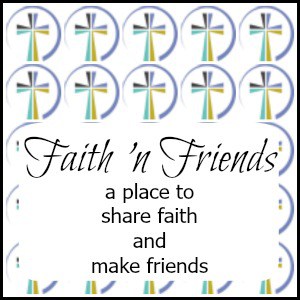 We're so glad you're here!
This is a place to share faith, make friends, and have fun.
Hosts
Faith 'n Friends
Blog / Facebook / Twitter
Deb Wolf
Blog / Facebook / Twitter / Pinterest
Tai East 
Blog / Facebook / Twitter / Pinterest

by Crystal Hall
@ The Good News
When You're Faced with a Battle
Thank you, Crystal, for joining FnF Blog Hop!
No More Rules Blog Hop
Add 1-2 of your favorite faith/life posts.
Then just make friends and have fun.
We would appreciate it if you would
Grab the Button or link back to the hosts.
Loading InLinkz ...