You've heard the quote: It is better to have a small faith in a huge God, than a huge faith in anything else!
What does that mean to you?
For me, it's a reminder to live as though I believe God can do whatever I ask . . . then trust Him to do what He knows is best.
It also means keeping my eyes open for God's activity in my life.
Our oldest grandson celebrated his 8th birthday this week. We call him our miracle. He was born at 24 weeks 3 days and weighed 1 lb 9 oz. He spent months in the NICU and continued to have breathing issues after going home. Eventually, he had his trachea reconstructed . . . which itself was a miracle.
This week, I enjoyed a wonderful conversation with Joshua. He told me about school and his birthday presents. He answered all my questions with a proper and enthusiastic southern, "Yes, Ma'am."
And I praised God again.
Rev and I praise Him for 3074 bonus days today. Days since his heart surgeon was told he wasn't strong enough for surgery and she replied, "If we don't operate today we won't get another opportunity." And every day a gift. A miracle.
Miracles are awesome, but they're not the source or the foundation of my faith.
My faith is not in the miracles!
My faith is in the Triune God. The One who is able. The Lord of creation and Lord of all . . . worthy of complete trust. He is worthy whether you and I receive the miracles we ask for or He gently guides us in another direction.
God looks at the big picture of our lives and acts out of love. Always.
For I hold you by your right hand—I, the Lord your God. And I say to you, 'Don't be afraid. I am here to help you. Isaiah 41:13
Here to help. Active in the lives of His children. Every day miracles.
We have His written Word and by the power of the Holy Spirit we can read it and apply it. A miracle.
John 5:24 reads; "I tell you the truth, whoever hears my word and believes Him who sent me has eternal life and will not be condemned; he has crossed over from death to life."
How about that for a miracle to get excited about?!
Life . . . eternal and abundant.
Right now! Life.  And we don't have to realize a 'yes' to our prayers to experience a miracle. God is always at work. Miracles are happening around us every moment of every day. Some we notice and some we don't.
When you don't see the answer to your prayer He is at work. While you wait for that specific miracle He is making miracles happen.
Miracles like faith received, life given, health restored, a baby born, a restored relationship, a broken heart comforted, forgiveness given, and on and on and on.
I'm praying for faith that helps me keep my focus on our huge God. The maker of miracles.
Father, Open our eyes to see You at work that we may glorify You now and forever. Amen.
Praise the Lord! Give thanks to the Lord, for He is good! His faithful love endures forever. Psalm 106:1
Now it's time for…
Faith 'n Friends Blog Hop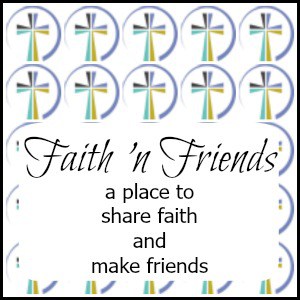 We're so glad you're here!
This is a place to share faith, make friends, and have fun.
Hosts
Faith 'n Friends
Blog / Facebook / Twitter
Deb Wolf
Blog / Facebook / Twitter / Pinterest
Tai East 
Blog / Facebook / Twitter / Pinterest

by Joanne Viola
@ Days and Thoughts
Thank you, Joanne, for joining FnF Blog Hop!
No More Rules Blog Hop
Add 1-2 of your favorite faith/life posts.
Then just make friends and have fun.
We would appreciate it if you would
Grab the Button or link back to the hosts.
Loading InLinkz ...