If you volunteer you know the benefits and blessings. But have you ever had someone ask you 1) why you volunteer of 2) how you find the time to volunteer?
I have 8 simple reasons you can give them that could almost motivate them to volunteer with selfish motives. And even if they start helping others to help themselves . . . I believe it won't stay that way.
8 Reasons Why Volunteering is Good for You
It's good for your health. According to Psychology Today, people who volunteer are healthier and live longer. In fact, they say it's better for you than "exercising and eating well."

It connects people to each other. Volunteering builds your network, relationships, and will help you make new friends.

It allows you to try out possible careers or hobbies. Students can build their resume, and anyone can add balance to their lives by volunteering with something they love to do.
4. It makes communities stronger. Churches, organizations, schools, and neighborhoods are all stronger when they have an active group of volunteers.
It will help you find your life purpose. Meeting new people and trying new things are great ways to find the things you feel give you purpose.
6. It improves your emotional well-being. Helping others just makes people feel good and that leads to increased happiness. It also helps us realize our personal blessings.
It's a blessing to make a difference. Every small effort helps and blesses the doer as much or more than the recipient.
It builds strong relationships. Volunteering makes it possible to meet people with similar interests and passions. It connects people of all ages and backgrounds, helps us learn about different people, and even makes for mentoring opportunities.

Quotes for Added Inspiration
"Nobody made a greater mistake than he who did nothing because he could do only a little." ~Edmond Burke
Feed the hungry, and help those in trouble. Then your light will shine out from the darkness, and the darkness around you will be as bright as noon. Isaiah 58:10
"It's amazing to me the number of people who will volunteer to help at church but won't lift a finger to help at home!" ~Joyce Meyer
Work willingly at whatever you do, as though you were working for the Lord rather than for people. Colossians 3:23
"Volunteers are the only human beings on the face of the earth who reflect this nation's compassion, unselfish caring, patience, and just plain loving one another." ~Erma Bombeck
 "So now I am giving you a new commandment: Love each other. Just as I have loved you, you should love each other. Your love for one another will prove to the world that you are my disciples." John 13:34–35
Volunteers don't get paid, not because they're worthless, but because they're priceless.  ~Sherry Anderson
Dear children, let's not merely say that we love each other; let us show the truth by our actions. 1 John 3:18
I am a little pencil in the hand of a writing God who is sending a love letter to the world.  ~Mother Teresa
What's your favorite place to volunteer?
Now it's time for…
Faith 'n Friends Blog Hop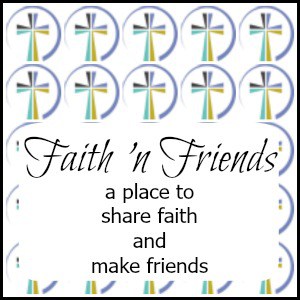 We're so glad you're here!
This is a place to share faith, make friends, and have fun.
Hosts
Faith 'n Friends
Blog / Facebook / Twitter
Deb Wolf
Blog / Facebook / Twitter / Pinterest
Tai East 
Blog / Facebook / Twitter / Pinterest

by Ifeoma Samuel
@ Purposeful and Meaningful
How Should I Handle Negative Criticism?
Thank you, Ifeoma, for sharing your tips with us!
No More Rules Blog Hop
Add 1-2 of your favorite faith/life posts.
Then just make friends and have fun.
We would appreciate it if you would
Grab the Button or link back to the hosts.
Loading InLinkz ...
I always enjoy hearing from you! Please take a minute to say 'hi' and share your thoughts below.
*Would you do me a favor — if this article blessed or helped you today — would you share it with someone else? Maybe a friend, coworker, or family member…
**And,[jetpack_subscription_form title="Subscribe to Faith 'n Friends here:"]