His departure from this life certainly doesn't sound like the ramp-up to the hearts, flowers, candy and greeting card celebration of love that we mark Feb. 14. Our St. Valentine's Day observance brings to mind images of smiles, affection and romance, but…
The namesake of our celebration, officially known as Saint Valentine of Rome, was a third-century Christian priest who found himself in the cross hairs of an angry Roman Emperor. Father Valentine's habit of promoting the spread of Christianity by sharing the Gospel brought a demand from Emperor Claudius II that Valentine renounce his faith or be clubbed, stoned and beheaded. The Romans of the early centuries of Christianity didn't just want to kill Christians; they wanted to make it as horrific as possible.
Father Valentine made his choice. He would most certainly not renounce his faith in Christ. And, so, the emperor followed through on his threat.
Hmmmm. Doesn't make you want to go shopping for roses or chocolates? Me neither.
So, how did Valentine's life and death come to be celebrated like we do?
Well, there's a multitude of differing theories on that! However, the most likely is that the emperor had issued an order that Christians were not permitted to marry. That's right! Christian marriage was against the law. So, Valentine began performing marriages for Christians in secret—one of the "offenses" that led to his martyrdom.
Now, we're on to something: Love and Christian marriage. Father Valentine's life and death were centered in his love for Christ–above everything–even life itself.
What an example. It not only focuses us on the willingness of the Lord to sacrifice His life for us, but it reminds us that at the center of any Christian marriage–any Christian relationship–is sacrificial love.
When I visit with a couple in pre-marriage counseling, I always make sure to challenge them to try to out-do one another at putting the other first. The beginning of the end to many marriages is self-centeredness. The secret to a lasting marriage is sacrificial love–letting go of "self" to better serve the other. No wonder I Corinthians 13 finds its way into so many wedding ceremonies:
Love is patient and kind. Love is not jealous or boastful or proud or rude. It does not demand its own way. It is not irritable, and it keeps no record of being wronged. It does not rejoice about injustice but rejoices whenever the truth wins out. Love never gives up, never loses faith, is always hopeful, and endures through every circumstance. I Corinthians 13:4-7 (NLT)
These verses are not exclusively encouragement for couples but should be the goal of every one of our relationships. And, knowing the sacrificial, courageous life of Father Valentine helps you and I have a profoundly deeper way of thinking about Feb. 14.
Now, in the interest of full disclosure and because my wife is the editor here, I thought I'd mention that I've been to Hobby Lobby for a card and elsewhere for a gift. After all, you and I can happily borrow from the popular celebration to express awe and gratefulness to someone who would love, marry and stick with someone like me.
Now it's time for…
Faith 'n Friends Blog Hop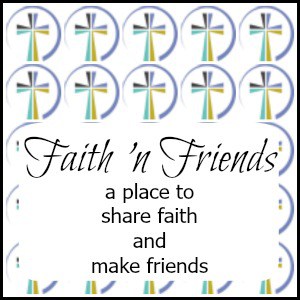 We're so glad you're here!
This is a place to share faith, make friends, and have fun.
Hosts
Faith 'n Friends
Blog / Facebook / Twitter
Deb Wolf
Blog / Facebook / Twitter / Pinterest
Tai East 
Blog / Facebook / Twitter / Pinterest

by Crystal Hall
@ Living the Good News
Thank you, Crystal, for joining FnF Blog Hop!
No More Rules Blog Hop
Add 1-2 of your favorite faith/life posts.
Then just make friends and have fun.
We would appreciate it if you would
Grab the Button or link back to the hosts.
Loading InLinkz ...