Why do we need Faith 'n Friends?
Really. What's the point of yet another faith blog?
We're not here to make money. And there are tons of other waaay more popular sites that share the message of faith. So, why this place?
Because…
As I've listened to the news and scrolled through social media there seems to be a common theme:
Christianity is in decline and that's just fine because they're all judgmental zealots anyway. 
And I've grown tired of the rhetoric and I'm guessing you're weary of it too.
But the rhetoric will never change if no one stands up and speaks out. If the negative (and I know, some of it is well deserved) is never challenged . . . then the negative stands.
And I don't believe we have to be fist shaking, Bible thumpers to be challengers. In fact, quite the contrary—all that fist shaking and Bible thumping for many just proves their point.
There is another way. A better way. 
A way of stories. Stories that tell the truth about the way Jesus love shared changes lives.
That's the point of Faith 'n Friends.
I read a story last week about someone who purchased a young woman's groceries just because she felt it was something the Lord wanted her to do. She didn't know anything about her and admitted it felt a little awkward. But it turned out that young woman had been crying out for a reminder that God even noticed her. He not only noticed her. He loved on her through this faithful follower. (I apologize for not remembering where I read your story. If it's yours, would you please let me know in the comments? I would love to link back to you.)
Love for Jesus unites people of all colors and backgrounds. Love for Jesus reaches out and listens with compassion.
Love for Jesus inspires Samaritan like acts of love.
And that is not how we're being represented to the world.
Are you ready to do something about it? If so, we need your help. 
I've added a link at the top of the page. A place for you to share your stories. A place to tell the way God's love is being shown throughout the world.
You can tell a personal story or leave a link to a great story you've found on the internet. You can even email a link to me at deb@debwolf.com if you're not sure how to share the story.
What are you waiting for? Click here or at the Share Your Stories link at the top of the page.
Have you ever visited Gives Me Hope? Take a minute to check it out. I believe we can be that voice for followers of Jesus to the world. The voice that says we are not what others say we are, we are faith-filled followers of Jesus sharing His love to a broken world.
 Let us think of ways to motivate one another to acts of love and good works. Hebrews 10:24
I know you have a story to tell. Let Faith 'n Friends help you tell it to the world.
Now it's time for…
Faith 'n Friends Blog Hop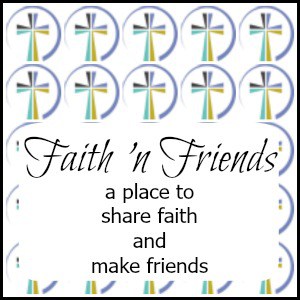 We're so glad you're here!
This is a place to share faith, make friends, and have fun.
Hosts
Faith 'n Friends
Blog / Facebook / Twitter
Deb Wolf
Blog / Facebook / Twitter / Pinterest
Tai East 
Blog / Facebook / Twitter / Pinterest

by Sharon Brobst
@ Everlasting Joy
It's a Lie – I Really am a Mess
Thank you, Sharon, for joining FnF Blog Hop!
No More Rules Blog Hop
Add 1-2 of your favorite faith/life posts.
Then just make friends and have fun.
We would appreciate it if you would
Grab the Button or link back to the hosts.
Loading InLinkz ...